Cats in the cradle
Aug 08, 2019
The week before Christmas my father flew into town. He was coming to put me through a week long woodworking bootcamp.
The only wood working I had ever done was in an 7th grade shop class. Stacy had never done any. As the weight of what we had committed to really began to set in, I realized I possessed some number close to zero of the skills required to complete it. It seemed impossible that I was going to be able to do this now that we were actually faced with it.
In our conversations leading up to the week, I had been goading my father into coming out several more times after this. It seemed like that was the only path forward to ensure this thing actually got built.
Our first day of work on the van went slowly. Each time we went to Home Depot while trying to solve some problem, he would mention some new tool, or material that I had never heard of. "Oh, we could make some bolts that size by cutting some All-Thread with a Dremel" or "Yeah we can fix that, lets go get a Tap and Die set"
I had only ever made very rough wood projects. He showed me how to get precise shapes using a router and a template. It was an at times stressful learning environment. But some time in the middle of the week we really feel into a groove. I'd wake up later than him, he would have already done some research for the task that day and would explain it to me as I made coffee for the two of us. Then we'd get to the business of it. We're both very focused people when we get to working on something, thus many of the days we worked into the evening without realizing we had missed lunch.
Being a 30 year old in a learning environment with your father can be a stressful experience. There's a tendency to fall back into the patterns from when you were a child. But as we got into the groove of things, that didn't end up happening. We'd finish the nights with some beer or scotch, and then repeat it all again the next day.
It turned into an experience I will treasure for the rest of my life; working on a challenging project with my father, and having him pass on his expertise to me.
Some years before my father had restored a sailboat with his father helping out. His father was in his 90s at the time, his wife had died recently, and it became a cathartic experience working on the boat with his son. He died a few years later and my father often relates how much that time meant to him. I thought about this as the week drew to a close. We were both younger relative to that experience, and without the added import of my grandmothers death, but I could still see this in the broader context of my life being just as important to me as that had been for my father.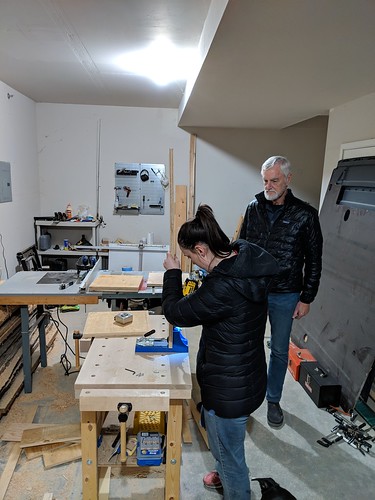 By the end of the week we had the Skylight, Extractor Fan, flooring, wall and ceiling studs, and initial insulation installed. But more importantly, I had built out the core tools for my wood shop, and learned how to use them. I had gone from the beginning of the week being absolutely sure I would need my father to continue to fly out and work on the van in order to complete it, to being confident that I knew enough to get it done myself. And now, many months later, and hundreds of hours spent learning more in the shop, feeling confident I can make what ever I could need in a wood shop.
My father will be around for many years to come, but who knows if we'll have a chance work on something like this again. I'll get a job at some point and get busy. He'll continue on with what ever crazy projects pop into his head. Maybe that's a little sad, but it's the way I think it is with Parents and Adult children, still I'm happy that for one week in December we made time for each other.